During the last month I moved house, so I decided to take a semi-break from my sketchnoting and blogging while I settled in. I didn't realize that there were a couple of sketchnotes that I failed to publish before my break. So, here they are…
Where Did I Put My Trust? with Martin Huckle
Are we too quick to just trust tradition and common models?
During this talk, Martin Huckle encourages us to challenge the ideas that testers rarely challenge. We proposes the idea of the trust audit, identify these ideas that we just accept (like when everyone assumed the Earth was flat) and check that it is really true. By talking to people outside the team or organisation, we can invite them to challenge the beliefs that we blindly follow. When giving a colleague a task to complete, instead of telling them how to do it, we encourage them to find their own solution. These steps allow us to introduce new ideas into the organisation.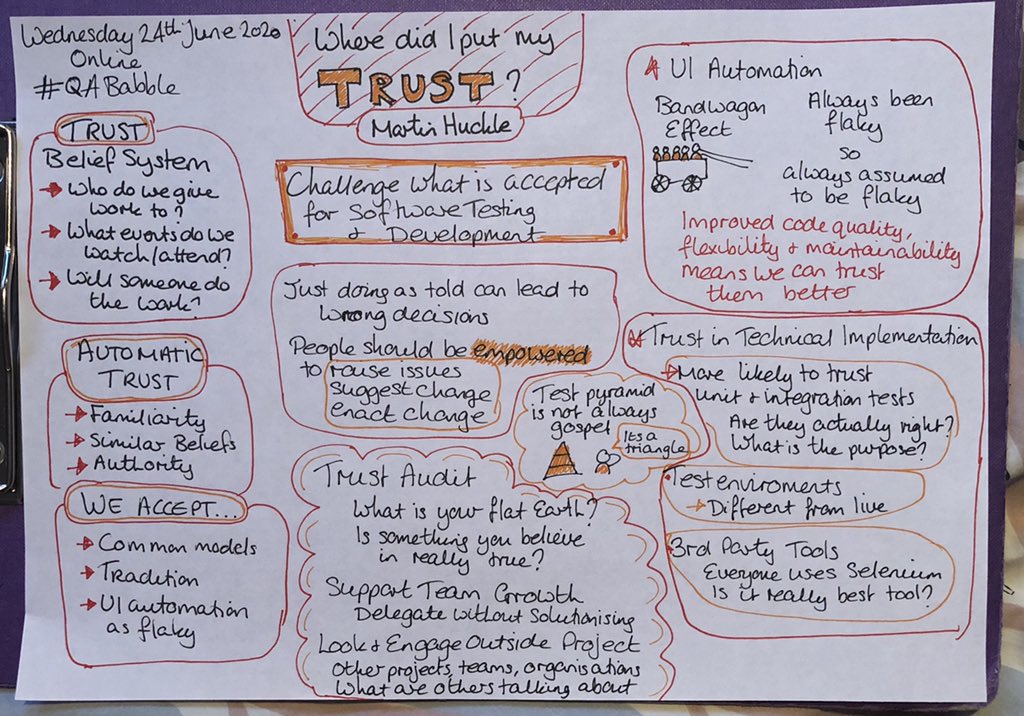 MOTrix – Value and Visibility with Gem Hill
How do you know if you are providing any value? How can you make the value that you provide visible?
Understanding and appreciating the value that you provide to a project can drastically improve someones mental health. The value that a new person brings to a project isn't always immediately obvious. A new person wil ask questions, speak to people and try to find out as much information as possible and suggest new ideas. There is value in not knowing things.
How do you make your work visible? If you've started the day with a to do list, it can be disheartening if you've been unable to tick off as many items as you'd like. To show why this might have happened, create a done list at the end of the day. It shows what you did of value during the day, even if you didn't plan to do this.
By reflecting on the work you did during the day and week, you can make the value that you bring to the team and project visible.
Click here to watch a recording of the webinar (free Club account required).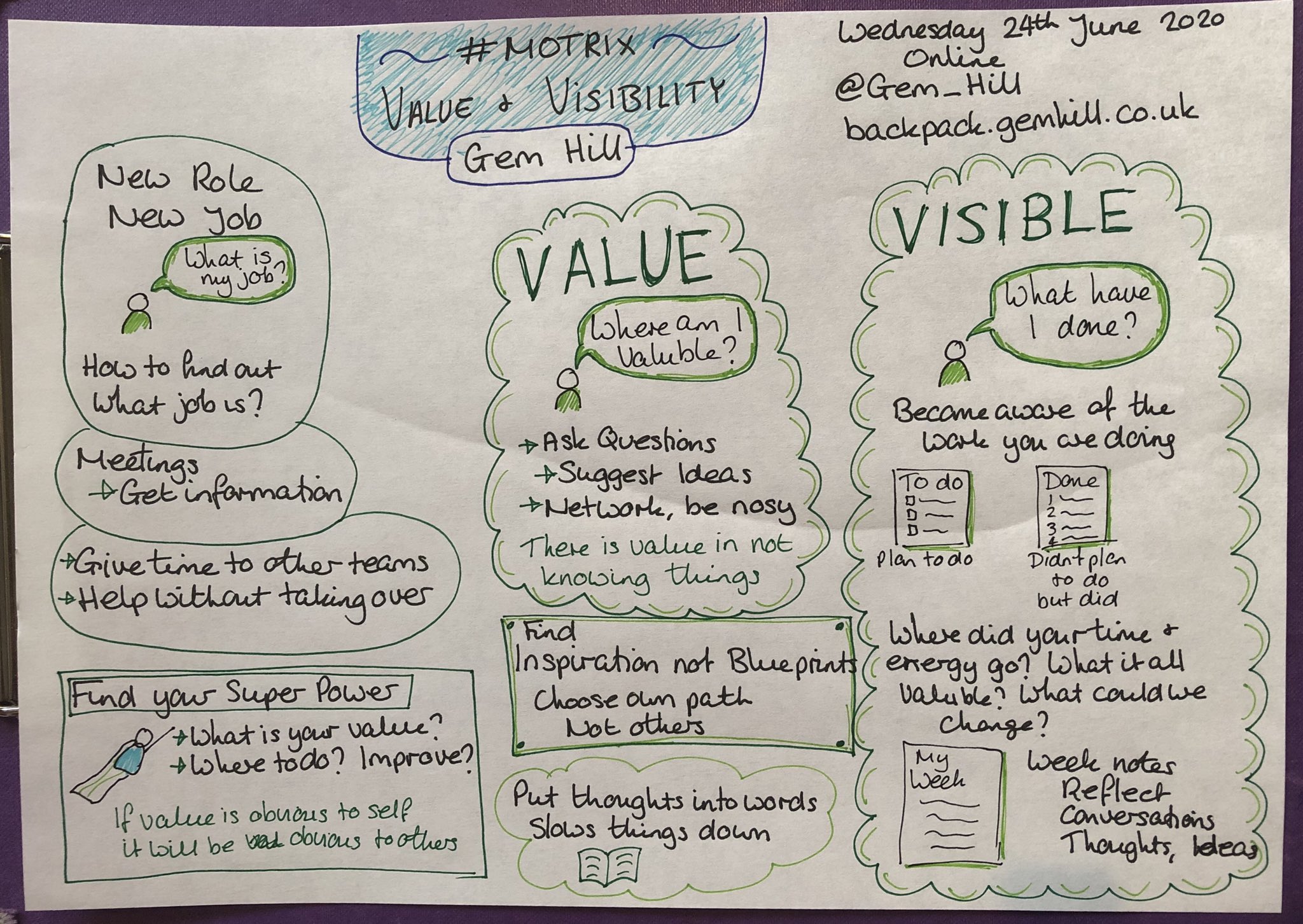 AMA Quality Coaching with Sahar Khoshraveshan
The Ministry of Testing hosted another Ask Me Anything webinar where Sahar Khoshraveshan answered as many questions as possible on the topic of Quality Coaching.
The key question that a quality coach must ask is "How can I make things better?" The Quality Assistance (instead of Assurance) model aims to prevent bugs before they have been created, rather than detecting them. This is achieved by introducing testing activities earlier in the process and improving the process as a whole.
A quality coach isn't just improving testing, they are improving quality throughout the entire team. They look at how all members of the team are working, ask questions, confront the experts, and identify new ways of working that could improve the overall quality of the team.
Click here to watch a recording of the webinar (free Club account required).
Click here to ask more questions and continue the discussion.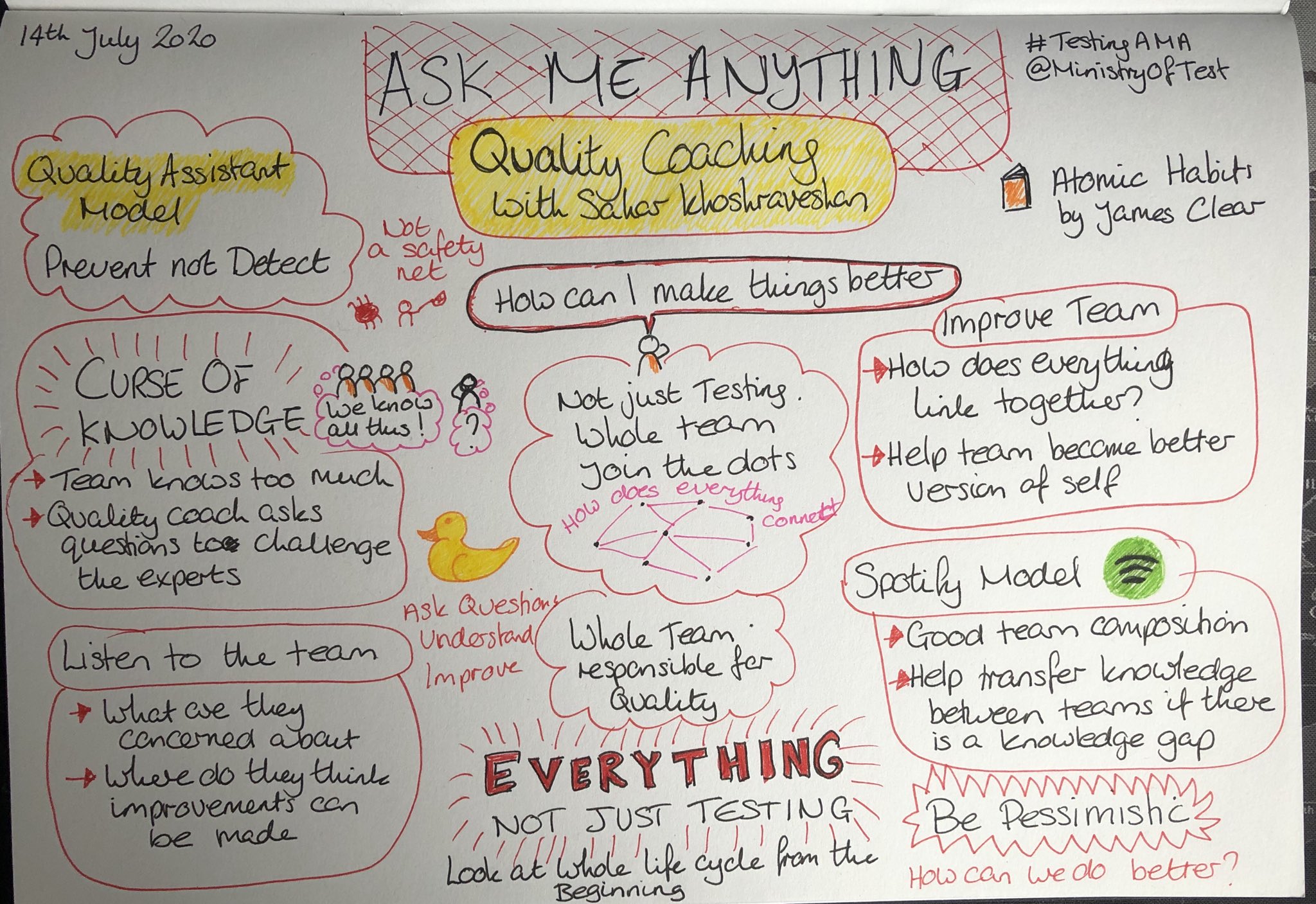 QA Babble – The Value Of Testers In DevOps with Ali Hill
During this weeks QA Babble talk, Ali Hill spoke about DevOps and the role of testing.
The most common definition of Continuous Testing is the one created by Tricentis:
Continuous Testing is the process of executing automated tests as part of the software delivery pipeline in order to obtain feedback on the business risks associated with a software release candidate as rapidly as possible. It evolves and extends test automation to address the increased complexity and pace of modern application development and delivery.

Tricentis definition of Continuous Testing
Ali was surprisingly critical of this definition, because he feels that it has too much focus on Test Automation and not enough on post-release testing activities like Monitoring. Dan Ashby's hand drawn DevOps model is routinely cited as a way to show how testing is supposed to be done at all stages of the DevOps process, not just before release.
In this talk, Ali highlights how Test Automation is a very important, but collaboration and including testing both earlier in the development process and post-release are also key to a successful DevOps project.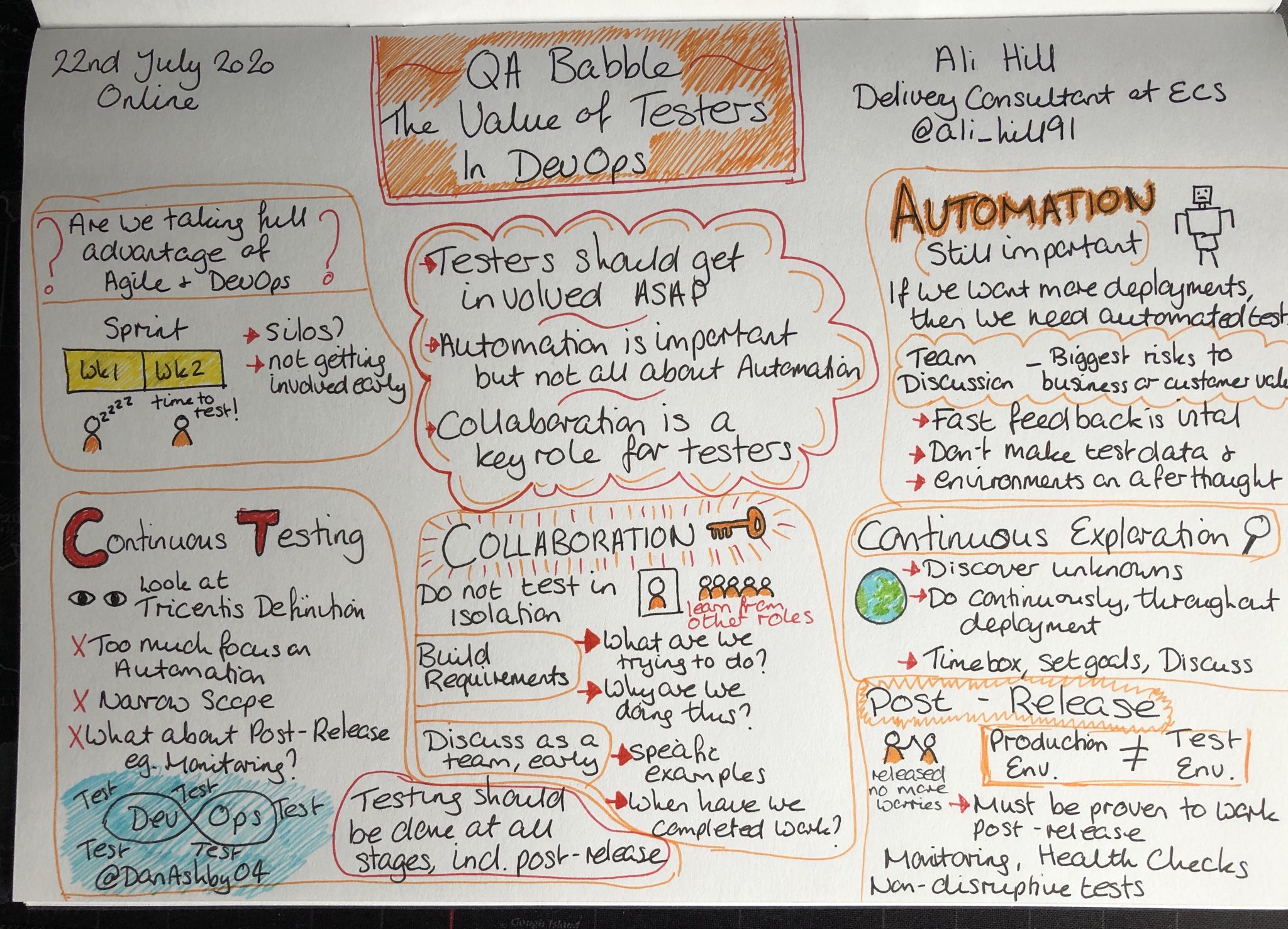 Final Shout-Out…
We all have bad days at work, and the pandemic has been stressful on everyone. Looking after your mental health is just as important as looking after your physical health. Gem Hill has founded the Self Care Backpack, a website full of resources and ideas to help you look after your mental health needs.
Curious to see what was included, I decided to buy myself a printed version of the Self Care Backpack Resource Set. My set arrived in the post a couple of weeks ago, coincidentally on a day that I was having a tough time at work. It made me fell so much better. The handwritten card from Gem was a lovely touch.