For those who missed my QA Babble talk 'Don't Run Before You Can Walk', I am excited to announce that I will be giving the same talk at the QAstion meetup this week at 12pm (GMT + 1) on Wednesday 17th June. Use the following link for details about how to watch this talk:
State of Testing Discussion
This week, I was asked to be one of the panelists for the State Of Testing discussion webinar.
Each year, Practitest invite members of the testing community to complete a survey. The results are analysed and published in the State of Testing report. I find this particular report interesting because the results are compared against previous years, identifying potential trends within the IT industry.
During this webinar we discussed:
The increase in the amount of non-testing work completed testers, and the number of testing activities completed by non-testers.
The small resurgence of Waterfall and slower introduction of new processes and methodologies within tech organisations.
The impact that the COVID-19 pandemic might have on job security for testers.
A few questions were asked which we didn't have time to answer. I am planning a follow-up blog post to give my answer to some of these questions. If you have any other interesting questions about the state of testing report that you'd like me to answer, then please send me a message or post a comment at the end of this blog post.
Test Manager to QA Engineer – My Desire To Become More Tech Aware by Simon Long
I first met Simon earlier this year in January when he attended the #MidsTest meetup. He gave a 99 second talk where he discussed his desire to do more public speaking. Since then, he was developed this amazing talk which he gave at the QAstion Time meetup.
He talked about his journey to learning new things by taking online courses, setting up his own blog and attending external meetups. He also talked about having to adapt to changes like a new job role. A key message was don't learn too much at once.
Anyone who is new to networking, public speaking or just wants to become more tech aware should listen to this talk. Hearing about other people's self development journeys is always really inspiring.
I especially liked the point about starting his public speaking journey by sharing his own experiences. Many struggle to find an interesting topic to talk about, personal experiences is a good place to start. Even if its a topic that has been talked about before, providing an alternative perspective can be really useful.
Simon Longs blog
http://simonlongtester.github.io/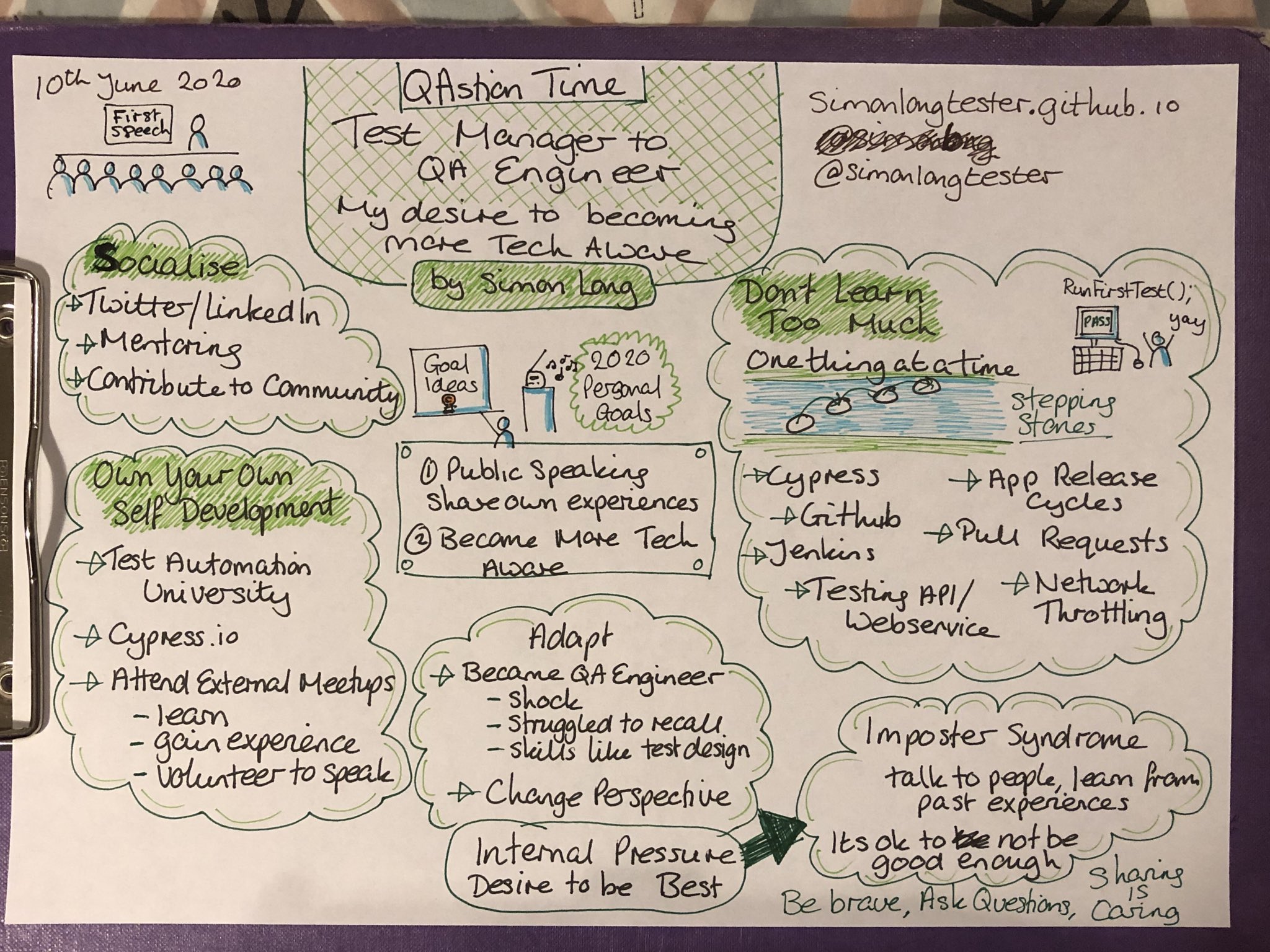 Assuring or Not Assuring Quality by Ioana Porcarasu
Ioana is a regular at the #MidsTest meetup and has even given a talk on Continuous Testing before. It was great to see her speak again.
This talk was about improving the continuous delivery pipeline. When the time to complete testing is slow, adding more QA resources may not solve the issue. Instead, its important to find the cause and identify ways to improve. This involved a 3 step process:
Look at the metrics

Ioana's team focused on Cycle Time and Ticket Rejection Rate.

Visualise the Workflow

Identify where and why time was wasted.
Use this information to improve the pipeline
Use the metrics to show how things have improved

Learn and Adapt

Continue to find ways to improve the delivery process using metrics and experimenting.
All teams were responsible for quality and everyone was involved in testing. The QA team became a Quality Engineering team. Instead of focusing on testing, the Quality Engineering team focused on test strategy, automation and improving the delivery process by analyzing the different metrics.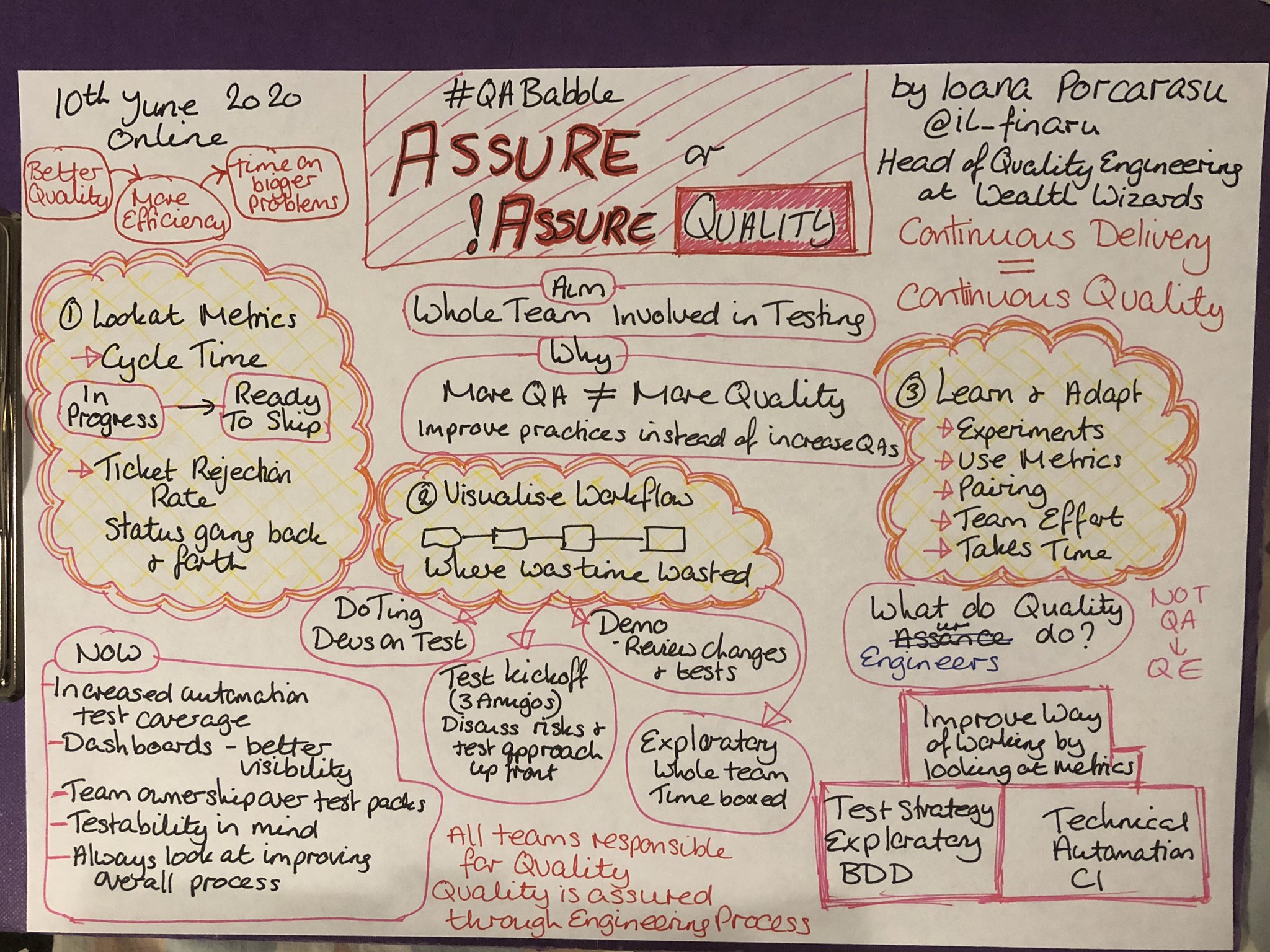 Transcendental Learning From The Space Time Continuum by Dan Billing
I love Doctor Who. It turns out that Dan Billing is also a fan because he dedicated an entire talk to the iconic British TV series.
For those unfamiliar with the series, Doctor Who is about a time traveler who is know as 'The Doctor'. The series was made between 1963 and 1989, and rebooted in 2005. To accommodate for such a long run time, the story has developed to allow multiple actors (and actresses) play the titular character.
During this webinar, 'The Test Doctor' uses the varying personalities and story-lines of The Doctor to convey different inspirational messages – just a few of which I was able to record on a single piece of paper.
At the time of writing, I couldn't find a recording available for this talk. It should eventually be posted here along with other Ministry of Testing meetup talks.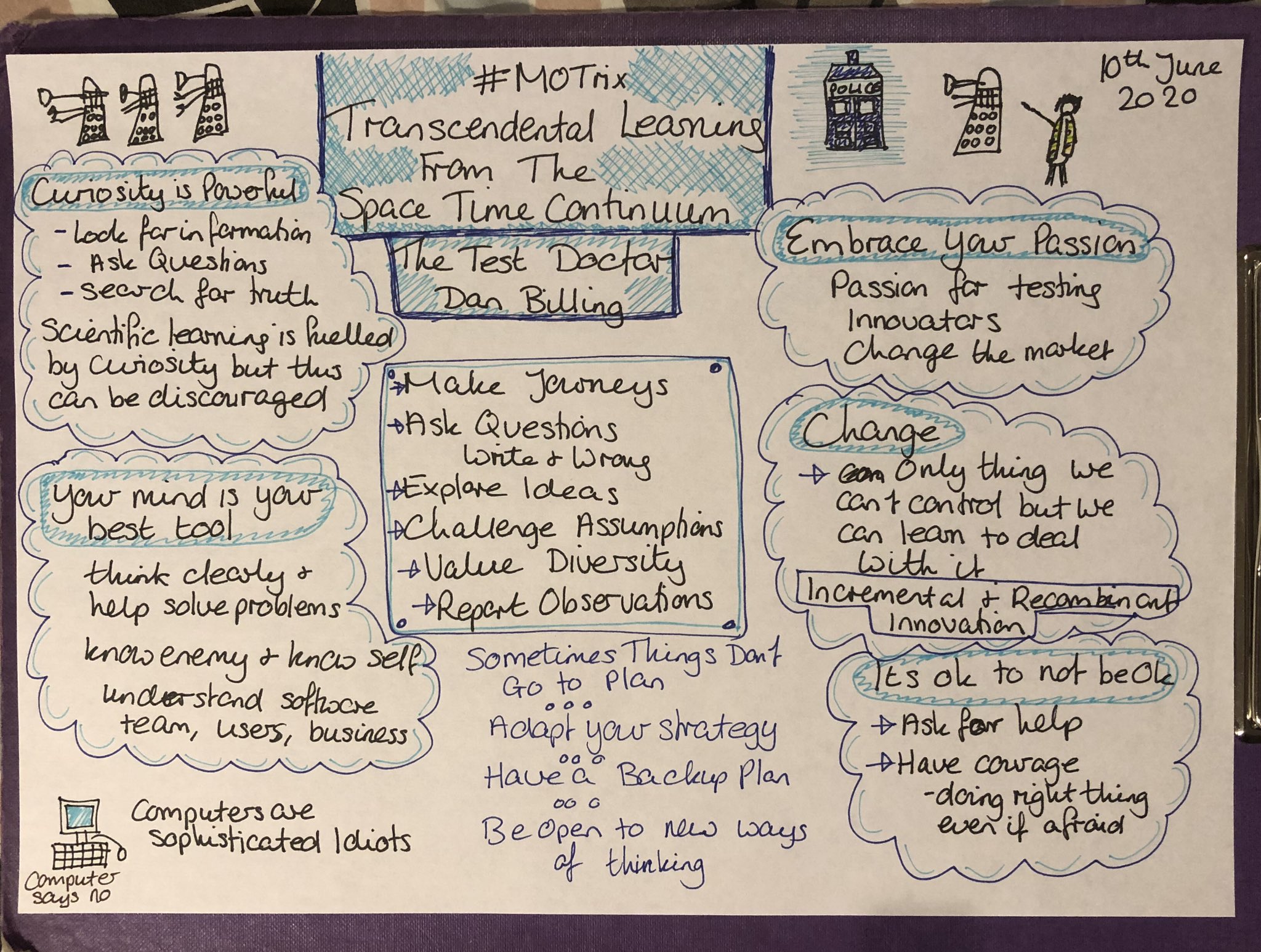 Sketchnoting
I've received so much positive feedback for my sketch-notes. Thankyou so much, its really given me a confidence boost and encouraged me to keep doing this.
I feel that I'm not so good at including pictures so I've been trying to improve my skills by creating sketches that tell a story. Here are a few of my creations.
Inspired by an experience while I was out walking and saw someone coming the other way: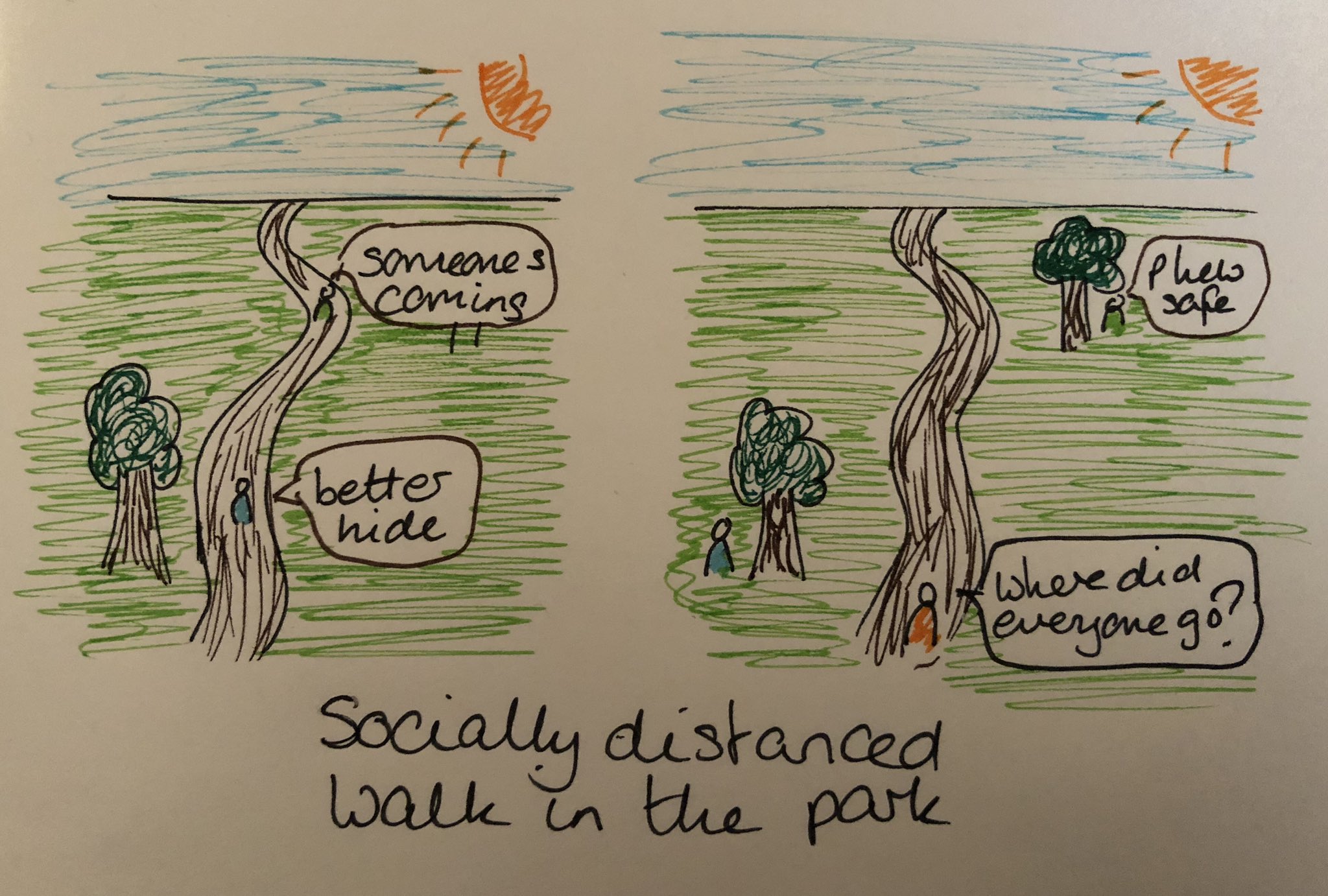 It was a bright sunny say and I was inside working. By the end of the day, it was raining. This is how I'd originally planned to spend my evening: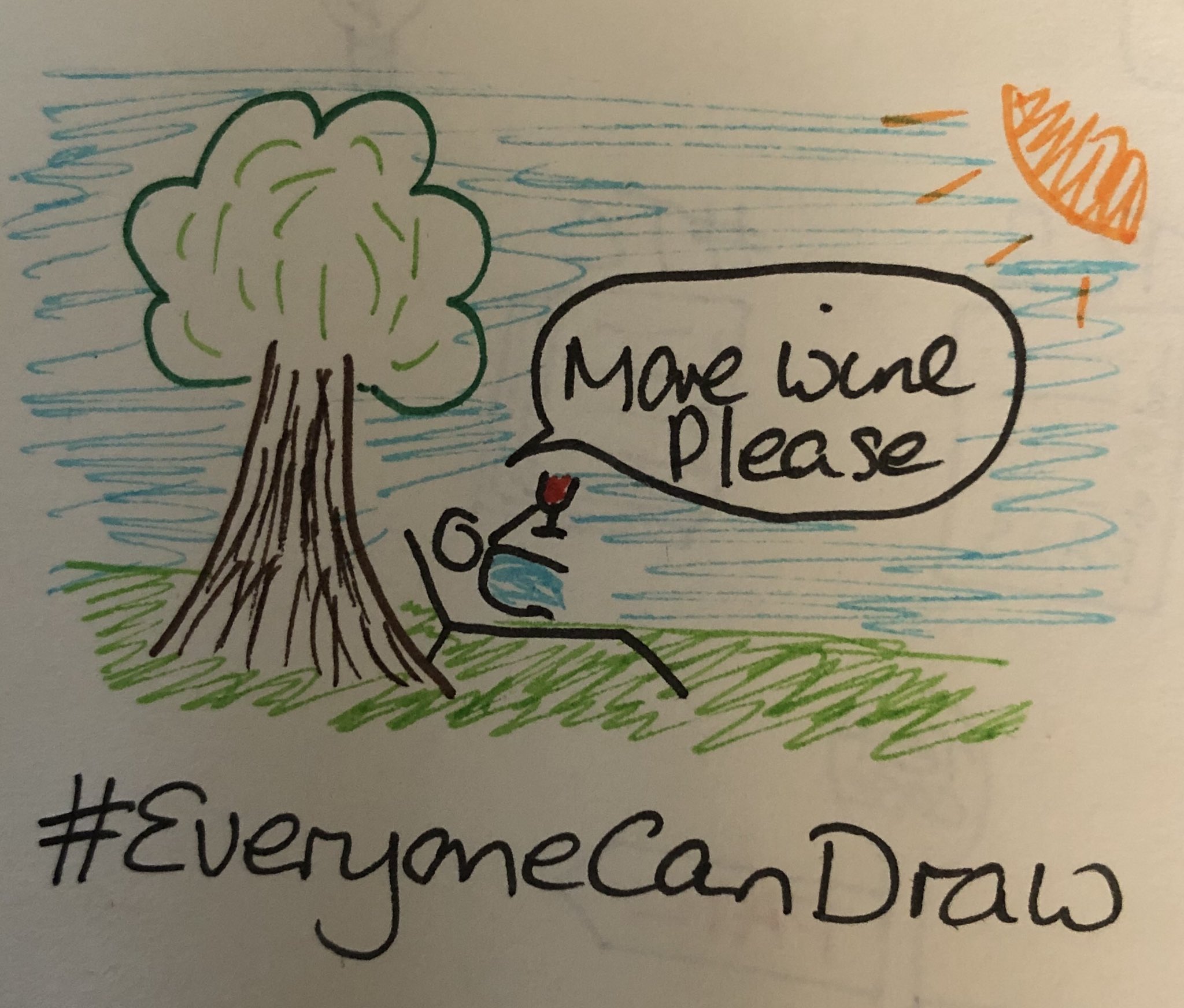 Special thanks to Bruce, creator of the Undeveloped Bruce blog, for inspiring this creation: